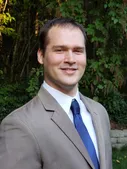 Brandon Velasco, D.C.
Ever since a young age, Dr. Velasco was interested in health and helping others. When he was in junior high school, he started a regular workout program at the gym, this involved aerobic, anaerobic, and flexibility training. It was during these years that Dr. Velasco grew curious about the inner workings of the human body and began each day studying and taking notes so one day he could share this knowledge. With a healthy curiosity, he started devising workout plans and goals for his friends. Through his determination and perseverance, he quickly became a sought after advisor to his community. While helping others achieve their workout goals, he realized the uniqueness of each person and how the human body adapts to the stresses that are placed upon it. It was at this time that Dr. Velasco decided to make this process his career path.
He attended Eastern Washington University to study exercise science/kinesiology; the study of human body movements. He spent a plethora of hours studying everything from muscles to joints, organs to nerves, even the cellular activities that make the body so adaptable. During his schooling he was fascinated that the human body is always in constant communication and striving for balance. It was here where he found the innate power of the body to heal and maintain itself.
In addition to regular course work, he also expanded his knowledge, teaching strength and conditioning classes, to extracurricular courses. During his senior year of college he was instructed to perform a 400 hour job shadow in a profession that interested him the most. He chose to shadow Dr. Morrow and Dr. Schweitzer, two very successful chiropractors. He got to experience the power of the adjustment to free up interference and couldn't believe how much better he functioned. Watching people leave subluxation free was a life changing experience.
After graduation from Eastern, Dr. Velasco packed his car and drove down to Hayward, California where he attended Life Chiropractic College West. He spent many hours propped in front of books, studying everything he could get his hands on. Not only did he learn biology, but he learned about the subluxation, where to find it, and how to correct it. By correcting this subluxation, a misalignment of the vertebrae affecting the nerves from that area, the body could heal itself through proper communication. He started strengthening his adjusting skills as soon as he arrived. During these years in California, he met many colleagues, and advisors who've helped shape him into the person he is today. Dr. Velasco graduated with honors and excelled in the clinical portion of his schooling.
Despite all his schooling, his learning is never finished, and he is always striving to expand his knowledge and to be the best he can be. He is looking forward and is grateful to serving this community and help people regain their health.
---
J Michael Schweitzer
At the ripe age of 15, J. Michael Schweitzer made the decision to help others just like he was helped with chiropractic care. This decision became a dream that stemmed from a personal experience with pain and sport injuries while in high school.
While playing high school football, he felt something grab at his neck area, the muscles tightened with unbearable pain into his arms that caused him to collapse on the field in agony. Carried off the field by teammates, he was rushed to see his Medical Doctor. Dr. Schweitzer was given a prescription for muscle relaxers and was told to stay inactive for three weeks. He suffered for a period of two weeks before his best friend told him to go see his uncle, who was a Chiropractor (Dr. Timothy Gay in Redmond).
The Chiropractor, first of all wanted to know about Dr. Schweitzer's problem to determine whether or not he could help relieve his pain and correct his problem so it would not be an ongoing issue. After determining this, the chiropractor did a thorough spinal examination and took x-rays as indicated by Dr. Schweitzer's problem. After being adjusted, his pain started to go away. The most important part was his neck was getting stronger due to rehabilitation and the restructuring of his spine. It took time, but the time taken was well worth it to maintain his physical health and keep him active both on and off the football field.
At that point in Dr. Schweitzer's life, he dedicated himself to his dream of being a chiropractor and the principal of relieving pinched nerves (subluxations) and getting sick people well. He started his chiropractic education on his own while still in high school. In college he enrolled in pre-chiropractic/pre-med courses at Bellevue Community College and Western Washington University.
After graduation, Dr. Schweitzer went on to study Chiropractic at the World Renown Palmer College of Chiropractic in Davenport, Iowa.
There he studied the basic sciences such as anatomy, neurology, and pathology. He knew every class he could take would help him reach his full potential as a Chiropractor, therefore he took special courses in diagnosis, x-ray and chiropractic philosophy.
Active in chiropractic affairs, Dr. Schweitzer is a member and past president of the Washington States Chiropractic Association. He is also a member of the International Chiropractic Association and the International Chiropractic Pediatric Association. He has been on three mission trips to Central America to provide Chiropractic care to the people of Panama and Dominican Republic. He was awarded the 2006 Sammi award, and in 2007 he was awarded the "Chiropractor of the Year" by the Washington State Chiropractic Association.
Dr. Schweitzer enjoys lecturing to the community about what chiropractic is, and what it is not along with how it can help people reach optimum health. This has helped him realize his primary goal, which is to be of service to humanity while promoting and educating the public about the importance of health through chiropractic care.
Sometimes pain seems like a minor thing, but when it causes alteration and total disability, it is a danger signal that means something is wrong and the body is not working correctly.
Finally realizing the dream of that 15 year old boy, who after being helped through chiropractic and wanted to grow up to be of service to people who are in need of chiropractic is one reason why Dr. Schweitzer is dedicated to helping you find the cause of your health problems, so you too may realize your full potential through optimum health.
---
If you have any questions about our Sammamish chiropractor, or would like to learn more about chiropractic care at Precision Chiropractic, please call us at 425-868-9025 today!