What is Chiropractic?
Chiropractic is a health care profession that focuses on disorders of the musculoskeletal system and the nervous system, and the effects of these disorders on general health. Chiropractic care is used most often to treat neuromusculoskeletal complaints, including but not limited to back pain, neck pain, pain in the joints of the arms or legs, and headaches.
Doctors of Chiropractic – often referred to as chiropractors or chiropractic physicians – practice a drug-free, hands-on approach to health care that includes patient examination, diagnosis and treatment. Chiropractors have broad diagnostic skills and are also trained to recommend therapeutic and rehabilitative exercises, as well as to provide nutritional, dietary and lifestyle counseling.
Chiropractic focuses on the relationship between the body's main structures-the skeleton, the muscles and the nerves-and the patient's health. Chiropractors believe that health can be improved and preserved by making adjustments to these structures, particularly to the spinal column to avoid Subluxations.
What is a Subluxation you ask?
A vertebral Subluxation is when a slight misalignment of one or more bones of your spine (vertebrae) moves out of position and creates pressure on, or irritate(s) spinal nerves. Spinal nerves are the nerves that come out from between each of the bones in your spine. This pressure or irritation on the nerves then causes those nerves to malfunction and interfere with the signals traveling over those nerves.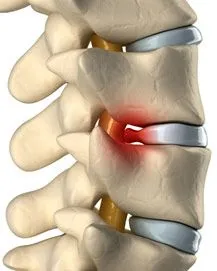 How does this affect you?
Your nervous system controls and coordinates all the functions of your body. If you interfere with the signals traveling over the nerves, parts of your body will not get the proper nerve messages and will not be able to function at 100% of their innate abilities. In other words, some part of your body will not be working properly.
It is the responsibility of the Doctor of Chiropractor to locate Subluxations, reduce and correct them. This is done through a series of chiropractic adjustments specifically designed to correct the vertebral subluxations to the spine. Chiropractors are the only profession who undergo years of training to be the experts in correcting subluxations.
Here at Precision Chiropractic and Massage we focus on educating you on your health and treating the cause of the problem. We strive to make sure you receive all the information and recommendations on how to proceed with your health and spinal wellness. Call us today and schedule a complimentary consultation and see if chiropractic can help you!
425-868-9025
http://www.echiropractic.net/what_is_a_subluxation.htm